Volunteer and make a difference in your community 
When you first arrive at COTS, you're likely to be offered a bacon butty and a brew – a service that's all thanks to our amazing volunteers. Our volunteers are instrumental to COTS: they're the friendly faces you meet daily and key members of our community.
"I now have a purpose in my life, and I've noticed that my mood and depression are lifting. I'm doing something that's supporting me to get back into work."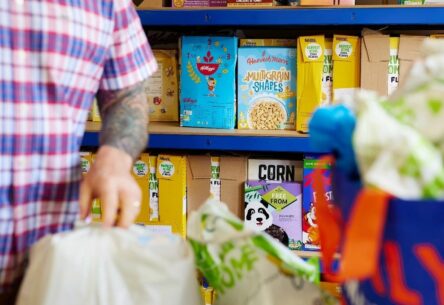 About volunteering
As well as being invaluable to COTS, our volunteers experience all kinds of benefits during their time with us. Volunteering is a great way to make new friends and come together in fellowship. It can help you gather valuable work experience to top up your CV – and you can even meet and learn from some fantastic people. If you're thinking about the future, volunteering can open up exciting new opportunities. Our previous volunteers have gone on to do all sorts, from finding full-time employment to working right here at COTS.
How can I apply?

At the bottom of this page, you'll find a form covering a few key details we need to know about you. There are various volunteering roles available in a variety of places. Before you get started, we wanted to share a bit about what it means to be a volunteer at COTS. You must read this information before you begin your application – and if you've not visited us before, we recommend having a nosey at our website first to find out everything you need to know. Please note: Submitting your application does not automatically mean you are a COTS volunteer.
What can I expect from COTS?

When you begin volunteering at COTS, we'll ensure that you're given an induction and any training needed for the role. You'll also meet a member of the team who will support you during your time here. Throughout your time volunteering, you'll be treated in line with our equal opportunities policy, covered by our insurance and taught to follow good health, safety and food hygiene practices. If there are ever any problems, we'll make sure that you're up to date with our problem-solving procedures.
What we expect from our volunteers?

Our volunteers are really important because they represent COTS as soon as visitors step through the door. As a volunteer, you'll be expected to support our work by performing your role to the best of your ability. That means following relevant procedures such as health and safety, confidentiality and safeguarding – and meeting the expectations we've agreed for your role. We also expect our volunteers to arrive on time for shifts and let a member of the team know if they're unable to attend. You'll notice all of our volunteers behave in a welcoming and professional manner at COTS, and we'll be providing you with an induction and a copy of our volunteer handbook so you can do the same. The handbook will also help you practice the vision, mission and values at COTS. Finally, we ask that during your time volunteering with us, you do not smoke, vape, drink alcohol or solicit illegal substances while on the premises. If there are any problems, we'll follow the COTS policy together to sort them out.
CURRENT VOLUNTEER OPPORTUNITIES AVAILABLE:
Just for Kids shop assistant
Burnley Hub cafe assistant
Burnley Hub admin